The Problem
Boutique studios and big-box gyms holding countless fitness classes every day, and a good chunk of these experiences are less-than-awesome. My co-founder and I – both fitness instructors – sought to find the root this industry's pain.
Struct Club has been backed by Harvard Innovation Labs' VIP program for 4 seasons and the Harvard Business School Rock Center. Struct Club is now a venture-backed startup by Unusual Ventures.
The Team

On this journey, we had a core team of three: Myself (UX), Amira Polack (CEO/Product Manager), John Jessen (iOS Developer).

My role

I led UX over the course of 1 year, as we went from concept to prototype and piloting the app on TestFlight.
Conduct field research
Lead 1-on-1 user interviews and concept fit testing
Create personas
Design information architecture
Iterate with rapid prototyping
Designing UX/UI
Research

Understanding the fitness landscape
Hypothesis
When starting, we thought that poor management was the root of classes' issues. But we took a human-centered approach to have a genuine understanding of the dynamic from the gym manager, to the instructor, to the members.
Field Research
We travelled to fitness conventions, big box gyms, and boutique studios to both lead interviews with management, instructors, and class participants. I kept research to understand where the root of group fitness classes' problems started. Here we discovered it lay in the hands of the instructors.
Value/Concept Fit Testing
I conducted value tests to determine what fitness instructors needed the most. We conducted further interviews with instructors, new and old in their career who teach classes ranging from spin, bootcamp, etc. We created a deck of theoretical product solutions for instructors, base. I analyzed instructors' responses to understand differences between needs and nice-to-haves.
Personas
Our personas came down to the Newbie and Master Trainers (our prioritized personas), and then the Seasoned Instructor. We prioritized "primary" and "secondary" personas, as users who fell under that category had the greatest need and we wanted to narrow down MVP needs.
Synthesizing and As-Is Mapping
During these interviews, we asked instructors to walk us through their current processes for planning and teaching a spin class. We then created a high-level As-Is experience map to give an overview of these findings to map out their steps — and locate their pain points.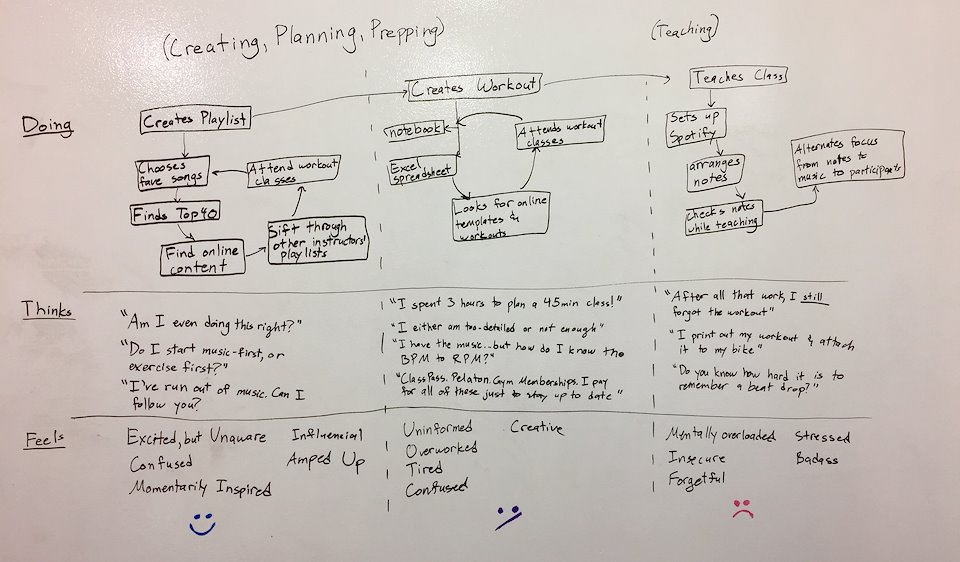 User Pain Points:
Instructors re-invent every class, and retain no history of what they've taught. And even if they keep notebooks of content, they run out of ideas for good music and exercises. Despite having endless online resources, these influencers can find music/workout content, but can't find content for their teaching style. And to top everything off – they can't remember what they planned to teach.
Solution
Create & plan classes, search for music that fits instructors' needs & styles, and share & source class plans with other instructors.
Concept Exploration

Information Architecture, User Flows, Rapid prototyping
To-Be Information Architecture

User Flow: Create First Plan
User Flow: Search for Instructors
Pilot Test & Further Iteration

Smooth Out the Experience: User Testing and Pilot
From Schwinn Master Trainers to local YMCA instructors, we tested Struct Club with instructors for planning and teaching their real-life classes. Our initial MVP had baseline class plan functionality in order for us to see what users truly needed, then iterated on that prototype.
Class Plan Details
Our initial MVP just allowed users to import a playlist via Spotify Premium (also pulls BPM data) and assign exercises to each song. We learned users needed more than just a list of their songs and exercises. They required notes to give context as to what they created in the first place, as well as time stamps and durations to remember what exercise happens when. That way, they can nail that beat drop.
Play Mode
We learned the need for an in-class teaching function was essential. Users having to switch from streaming via Spotify to viewing their plan in Struct Club wasn't simple. With most instructors using Spotify, they often risked scrolling through their plan and accidentally changing songs and ruining their class flow. We learned from our first round of testing that, with your phone placed on a bike's handles and in a dark room, legibility became difficult. So we created our UI to have large text on dark screens for that comfort.
Future Plans
As of June 2018, Struct Club became a venture-backed startup by Unusual Ventures.
Struct Club has launched a pilot with Schwinn and their recently-certified instructors. In its next steps, the platform will allow instructors to easily source and share content with each other, become better teachers and greater strengthen their communities.